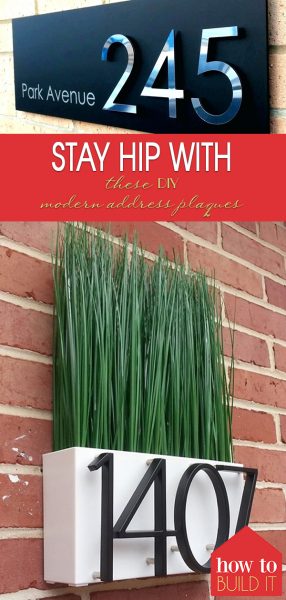 A drab, outdated front porch instantly sets the mood for the rest of your home as drab and outdated! No one wants their home to look like that! If yours could use some TLC, brighten up your dull porch with a few DIY modern address plaques.
They only take a few hours to make, and your home will look instantly upgraded and totally modernized. These DIY modern address plaques are to die for!
The stainless steel numbers are what make this an incredibly modern DIY project! I had a piece of black tile left over from my basement bathroom remodel that I used for this project. I used our tile saw to cut it to size. Next, I used a heavy duty drill bit to secure these stainless steel numbers that I found on Amazon.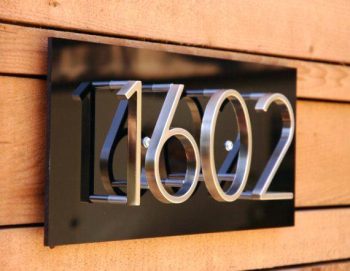 I didn't create this address plaque on my own home, but I love the idea of it! My friend built this vertical address plaque using a few scrap pieces of wood. For the planter, you will want to use pieces of 2×4 (cut to your desired lengths) and secure them with screws and wood glue. Before the flower box is secured, paint everything with a few coats of black spray paint (and a sealant). Let dry before attaching them together. Now, use an electric drill to secure your address numbers to the painted board, making sure to leave plenty of room on the bottom for a bushel of growing flowers!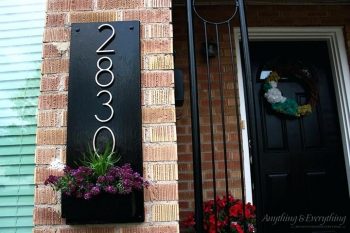 As you can tell, I love the idea of incorporating a planter in with my address plaques. It really utilizes the space you have available, and doesn't it look great? I actually made this as a gift for my brother and sister-in-law (they had just moved into a new home) and I used a small vase I found at Target as the planter. I found a set of address plaque numbers on Amazon (they even came with nifty screws) and I found the fake grass at Michaels. Alternatively, you can use real grass seed but the process is slooow.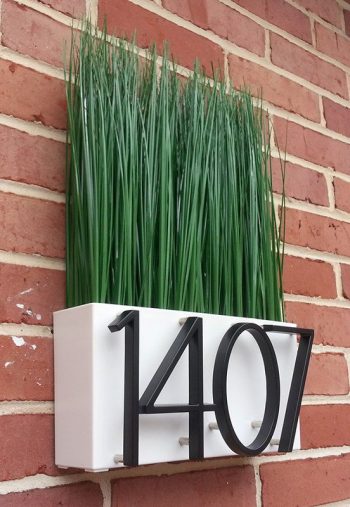 This DIY modern address plaque would be tricky to make, etching glass by hand is no joke! Instead of slaving away all day, trying to complete this DIY project, you can order a personalized glass address plaque on Amazon! Your front door will look like the entrance to a dentist's office in only 3-5 business days. 😉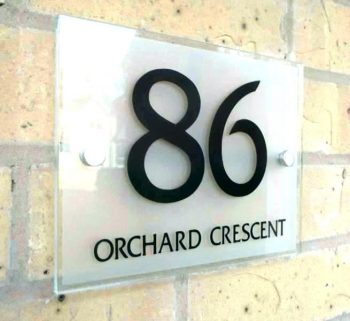 This chic and modern address plaque is a different version of the grass planter that I featured a few slides ago! However, this one is totally different due to the variety of plants, and the placement of the address numbers. Create this from a bit of plywood and an old set of 2x4s. The 2x4s will form the box that becomes the planter. Secure with screws and cover with a coat (wait for it to dry!) of paint before securing the planter to the plywood. Complete the look with silver address numbers attached to the white plywood piece.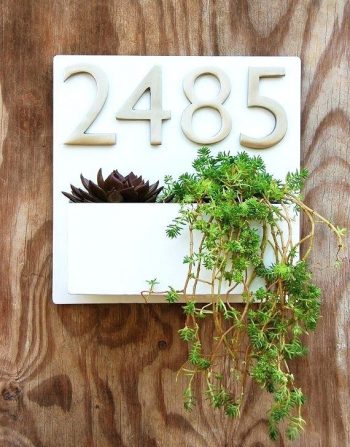 A combination of all the best elements, this address plaque outfitted with reflective numbers is completely chic and totally modern. To make, I covered a 4×8 piece of wood in a coat of black spray paint. Once dry, I used these waterproof stickers for the street name and these rad, reflective numbers for the address.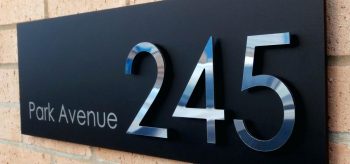 There you have it. Any ones of these DIY modern address plaques are stunning. You just have to choose one.