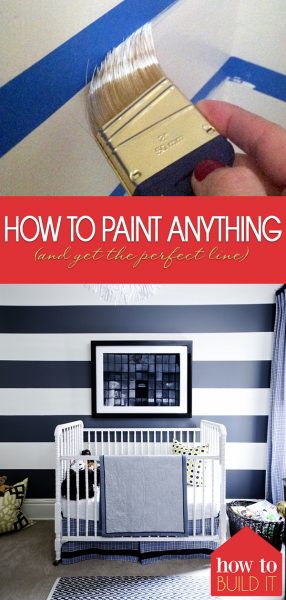 I love me a good painting hack! I've painted almost every room in my house multiple times, and I've used this painting hack every time! If you wan't to paint and get the perfect line, every single time!
Here's what you'll need:
–Ladder (if you can't reach, like me!)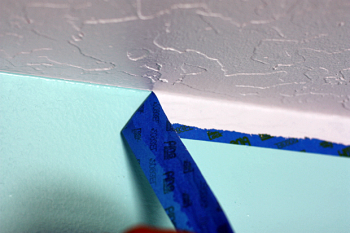 Step One: If you are painting stripes, make sure that you have your color scheme figured out. The stripes will go on top of a base coat! Use the ruler and pencil to evenly space out your stripes. Make sure you can easily see your tick marks! Next, tape the wall evenly. Pull the tape tight, and straight for the straightest line.  If you are painting a line around an outlet, or on the ceiling use painters tape around the edges.
Step Two: If your lines show up uneven, re tape them by repositioning the tape above or below your penciled lines.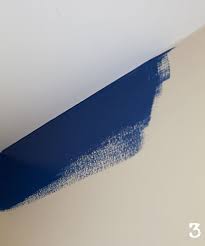 Step Three: Make sure your painters tape is bubble free before moving on. You can easily make this happen by running a credit card over the painters tape. Use your paint brush to carefully paint a line (colored the same as your base coat) over the wall, SLIGHTLY over the tape. See picture below for the visual!  Covering the tape slightly is what will make your painted lines super crisp.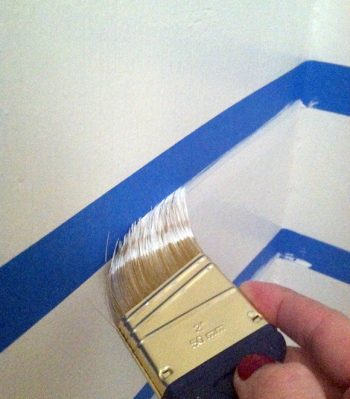 Step Four: Wait until your lines are dry, and remove the painters tape! How's that for a perfectly straight and perfectly crisp line? The step to "seal" your lines with a base coat is what makes things look really crisp!