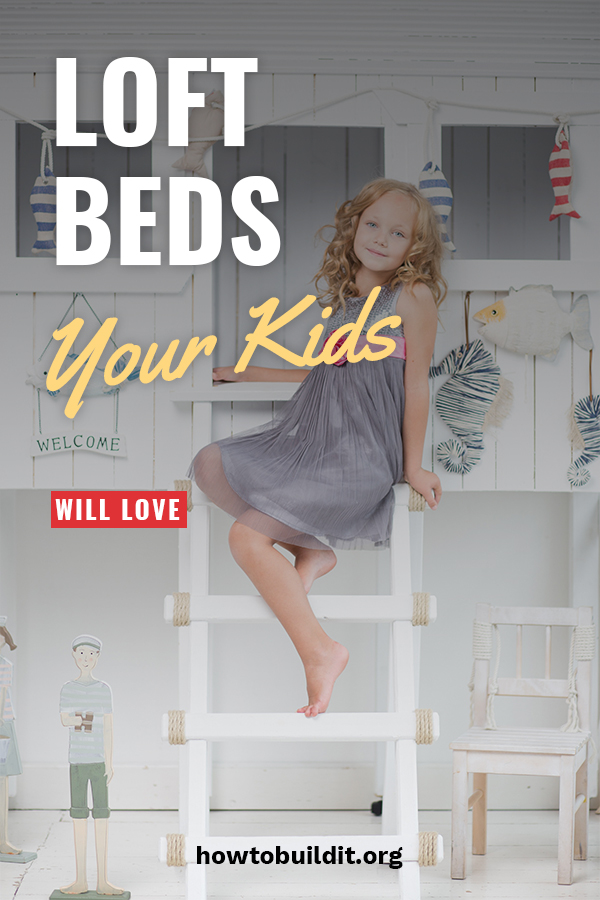 The moment I entered sixth grade I begun BEGGING my parents to buy me a loft bed. I always had a small room, so I thought a loft bed would be the perfect way to utilize the space that I DID have. Plus, the thought of studying hard at the desk underneath my super cool bed sounded appealing to me, too. As it turns out, our middle kid is just as obsessed with getting a new loft bed as I was! His birthday is coming up, and we can't wait to surprise him with one! We're hoping that it helps him utilize the space in his room, just like I did when I was younger. If your kiddos have small rooms, do them a favor and consider a similar sleeping arrangement! You'll love all of the loft beds below!
This loft bed is unique,  and a great way to get the most out of an already small space. If you have many children sharing one room, I recommend a set up like this! Look, you get three twin beds where you wouldn't have been able to put a single king!  You'll definitely need a few tools to make this happen, but it can be done easily if you follow the tutorial here. Build a sturdier railing system if you don't like the one shown below!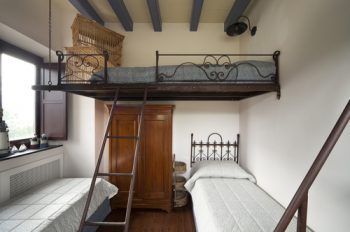 Cute & Functional
Kids just seem to always have so much STUFF.  Keep it contained without letting it take up space by storing it in drawers or on shelves underneath a loft bed. This one isn't too high in the sky, so even the littlest tyke would feel comfortable hitting the hay up here. They've got a great view of the window in this cozy bedroom. This is one of my favorite loft beds.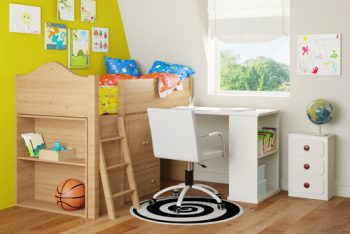 A Tiffany Blue loft bed is sure enough to please any difficult child…even if they're older teenagers! The living space in this bedroom is doubled by placing the bed in the sky and the dresser underneath. Plus, doesn't the bright blue just make this space look hip and inviting? You can purchase this loft bed on Amazon.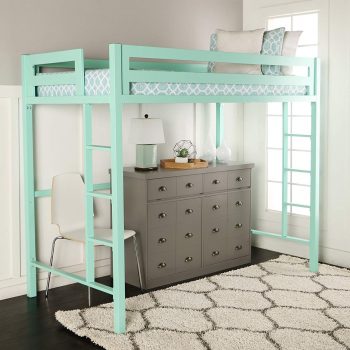 This loft bed is designed similar to the one above but is made out of metal instead of wood. If you're looking for a cheaper loft bed, I definitely recommend going with one made out of metal. You'll save a lot of money, and they look essentially the same. If interested in loft beds like this, you can visit Amazon to quickly purchase one of them!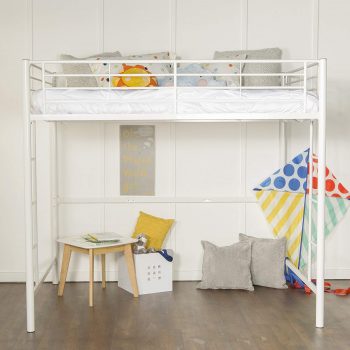 Make getting out of bed a little more fun with a loft bed like this! If I could literally slide out of bed every day, maybe I wouldn't cringe when my alarm clock went off! This loft bed is also one that sits lower to the ground, making it perfect for younger sleepers. Add storage units underneath to maximize space! Loving this loft bed? You can purchase it here.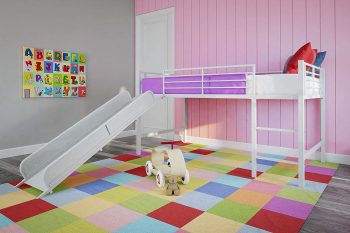 Though this loft bed is low to the ground, it's modern enough to work for even teenagers. The ladder works as an access point to the bed AND a place to display any decor. You could even use cloth bins to use these shelves as storage. The options are endless with loft beds. You can purchase this here.