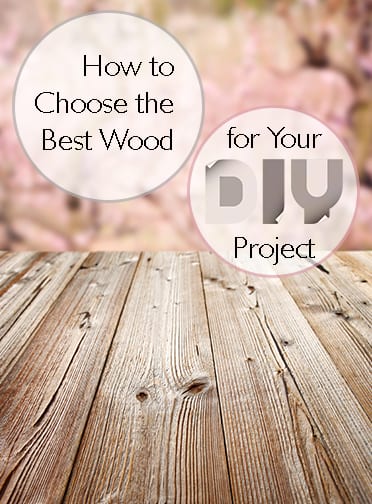 Choosing the Right Wood for a Project
There are two main things to look for when you are searching for the right wood for your DIY or craft project.  You need to decide which kind of grain you are looking for, and if you need a hard or a soft wood.  It is important to get the right combination of hard or soft wood, and open or closed grain wood.
If you are building a butcher block you would want to use a hardwood, and a closed grain so that liquids and juices do not become trapped in the wood.  That is why maple is such a common butchers block wood, because it is both hard and has a closed grain.
Wood Grain
There are two different types of wood: closed grain and open Grain.  Everyone is familiar with oak which has an open grain, meaning that the wood has large open pores in them.   It gives a very distinct look to the wood,  and allows you to see the grain from a distance.   Closed Grain woods are nice when you are trying to get a very smooth finish and do not want to be able to see the grain as much.  Cherry is a common closed grain wood.  Maple is another closed grain wood.
Color Change
Another thing to be aware of when choosing what wood to use, or especially when matching an existing wood, is that some woods will change color over time by exposure to light.  Cherry, Oak, Poplar, and Maple are some common woods that darken with exposure to light.  Cherry will do it very quickly, in fact you must be careful when storing cherry that you do not stack it in a way that will leave dark streaks and lines on your wood because it can take a long time for those discolorations to even out, if they ever do…
Do not be overwhelmed when you see a list of 100 different species of wood at the lumber yard, you only need to be concerned with a few different types to get started.
Soft Woods
Knotty Alder: Years ago this wood was considered garbage and would not even be harvested because the amount of knots and how soft it is, now it has become a popular wood, but is still very inexpensive.  This is one of the least expensive woods available right now.  And for the soft woods it holds up fairly well for things like cabinets and furniture.
Poplar:  Poplar does not have a very desirable color, and is extremely soft, but it is very easy to work with, and will sand very smooth.  Perfect for making trim, and pieces that will not see much action.  But is almost always used for a painted finish because of the wood color.
Pine: I actually do not use pine very often, I feel that it is overpriced for what it is, but you can buy it at most hardware stores so I think that increases how often people use it.  I don't like the visible grain in it, and feel if I am going to use something that soft, I would prefer poplar because it is less expensive and has smoother grain.
Soft Maple:  This is one of my favorite woods for making painted furniture, it is hard enough to hold up to some bumps and dings, but still is very workable, and sands easily and has closed grain.  But it is one of the more expensive soft woods.
Hardwoods
Maple: Maple is a closed grain wood so it will sand very smooth, this is what gym floors are usually made of.  The down side to maple is that it will yellow over time with sunlight exposure.  It is very hard which makes it more difficult to work with.
Oak:  Although oak is not very popular right now, it is nice because it is structurally stable and keeps its dimensions and is very strong.  It does darken over time with exposure to sunlight as well.  But it is a less expensive hardwood.
Cherry: Cherry is borderline soft wood, but is used often in furniture because it is such a pretty red wood.  It is very expensive, but is easy to work with and sands very smooth.  Keep in mind when doing your project that it darkens over time, and will turn a more bright red when the finish is applied.
Walnut: This is a very pretty dark wood with open grain, it is very expensive though that is why a lot of companies will use a less expensive wood and stain it too look like walnut.  But if you are doing a piece of furniture and you really want it to stand out, walnut is a good way to go.  It is hard and fairly difficult to work with.
Hickory:  I am a big fan of hickory.  It is not the most expensive of the hardwoods but if you pick the correct pieces it have a very strong contrast between the heart wood (dark center of the tree) and the sap wood (lighter colored outer wood).  It is an open grain wood and is EXTREMELY hard.  It also smells delicious if you don't cut it fast enough and start to burn it…
So, when you are choosing a wood for your DIY or craft projects, be sure to think it out and pick the wood that will best suit your purpose.  A piece of furniture that is going to get a lot of wear should probably be made from a hardwood.  If you are painting the wood a color, be sure to choose a closed-grain wood, so that you can get a smooth finish.  If you paint an open grain wood white, you are going to have a lot of grain show through, and you are going to need more coats of paint.  The finished product is not going to be as smooth as if you were to choose a closed-grain wood. 
I hope this helps!