Hey, want to learn how to build a fort? Building a fort is like a quintessential childhood experience!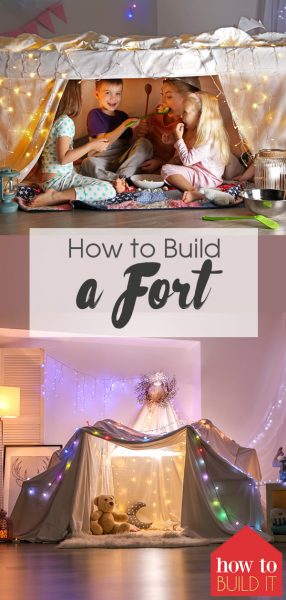 I fondly remember tearing through my Mom's stash of sheets and blankets with the hopes of turning them into the walls and ceiling of my fortress. I spent many hours hidden away reading books and planning projects with my friends and siblings.
Just get creative. Forts can be built indoors or outdoor. In your bedroom, or even on a bed (kind of feels like camping).
I loved it so much that I've been building blanket forts with my children ever since they were big enough to do so!   Learn how to build a fort with my tips and tricks below.
Materials Needed
Before you learn how to build a fort, you'll need a few of these things. Having them handy will make your fort look great:
-clamps or duct tape (just in case any securing is required)
– chairs or coatracks (these items will help keep the blankets propped up, and they'll provide you with cool "rooms")
-sheets and heavier blankets (the more you can find, the better and  bigger your fort could be)
-string lights  (A crucial element to any good fort space!)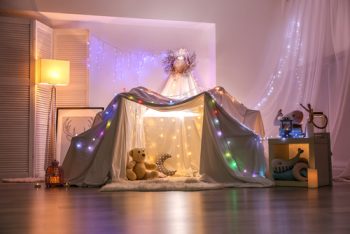 How To Build A Fort
Step By Step
Tip #1: Contrary to what you believed as a kid, it isn't great to build your fort with heavy-duty blankets! They'll actually keep your fort hotter (and who wants to be sweaty?) and they're often more difficult to secure. Use sheets as the top layer, instead. They're easier to tape up, and they'll keep you MUCH cooler.
Tip #2: Those heavy duty blankets have another great use: as the flooring of your fort! You'll appreciate the extra layer of padding when crawling around on the floor all day. Plus, they're great for naps.
Tip #3: Location is everything! If you want to spend your time watching movies, be sure to place your fort in a spot that's facing a TV! If you plan on keeping your fort intact for a couple of days, be sure to have it located somewhere relatively out of the way. It would be hard to eat dinner if your kitchen table was covered in blankets! But then again, I suppose you could eat inside your fort….
Tip #4: Make your fort even more comfortable and even better for naps with a layer of pillows. If you want, it's nice to include a few soft ones to throw over top of you. I think the more pillows you have, the better!
Tip #5: Before crawling in for the night, stock up on snacks! My family loves to munch on popcorn, licorice, applesauce pouches, and homemade cookies! Of course, we incorporate in some healthier options where we can, but we love our sweet and salty treats, and once in a while never hurts!
Tip #6: If you have them handy, string a strand of Christmas lights around and inside your fort. They make your space feel so magical. You might get lost for a few hours! In my house, no fort is complete without a strand of twinkle lights or two.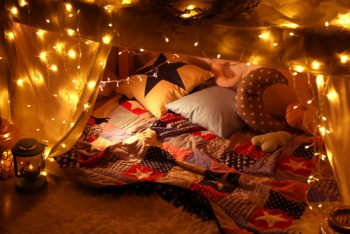 Now that you know how to build a fort, have fun with your kids and enjoy fond memories of your own childhood! Happy building!
Does your child want a canopy?
 For more kid ideas visit halfpintpeeps.com