Ever since I can remember, I've always wanted to have my own chicken coop, and I definitely wanted to learn how to build a chicken coop. I didn't care how messy chickens might be, I was completely in it for the eggs! As soon as my husband and I bought our first house, a chicken coop was the first thing to go into the backyard and we've never looked back. It was a blast learning how to build a chicken coop and care for the chickens! We love our fresh eggs and I love taking care of the chickens (believe it or not!). If you want to harvest your own eggs, you'll need your own chickens and more importantly, your own chicken coop. Here's how to build a chicken coop, we've used this model and it's housed our chickens for years.
Here's What You'll Need:
-8 foot long 2x4s (21)
-4×8 plywood boards (4)
-6 Inch Wide Fence Pickets (46)
-8 foot 1x2s (15) optional-for trim
-8 foot 1x4s (3)
-Nails and hardware
-12-foot x 2-foot plastic roof panels (2)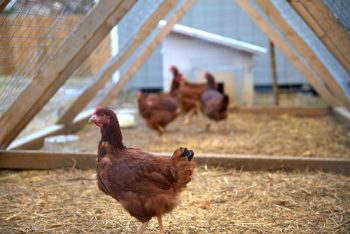 Step One: For the foundation of your chicken coop, use one of the 4×8 plywood boards with 2x4s framing the ends. Add an extra 2×4 down the middle of the plywood for added support. You don't want your floor to cave in! Move your chicken coop in place.
Step Two: Next, you'll want to build the frame for your walls, assembling them BEFORE you attach them to the foundation/floor. Place 2×4 studs every two feet for support and then two 2x4s back to back at each corner intersection. Your front wall should be 4 feet up from the foundation, and the back should only be 3.
Step Three: Use the remained of the plywood boards as the walls of the coop, attaching only the side walls with a nail gun for the time being.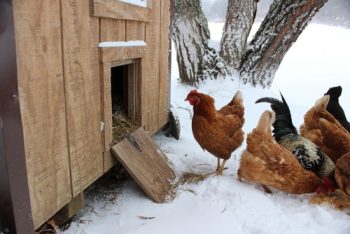 Step Four: For the roof gables, you will want to space your 2x4s (turned on their side) evenly apart (you should have about four total gables) and notched into one another for support. You should allow your gables to extend a few inches past the frame of the wall…this will help keep your chickens nice and dry when it rains!
Step Five: Now is the time to add any finishing touches to the inside of your chicken coop. Make sure you give them adequate space to lay their eggs…as well as a door for the chickens and yourself.
Step Six: Now that you've added the finishing touches to the interior of the DIY chicken coop, you can attach the front and back walls. I found it was easiest to attach the plywood if you work in 3- 2-foot sections. Cut out any sections needed for the entrances and exits. Use the plywood boards to give your chicken coop a roof, too.
Step Seven: For the door, use two 24 inch tall 2x4s as the outer parts of the frame, using 1x4s as the horizontal pieces that keep everything together. Nail the frame into the walls of your chicken coop.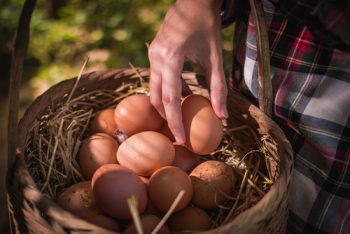 Step Eight: Now you'll want to build the actual door to put inside your newly built frame. Create another frame (one that will fit seamlessly inside your installed frame) using 1x4s. Once you have a frame, use your remaining section of plywood to complete the door. Secure it inside the frame with hinges.
Step Nine: Now, for the finishing touches! To give your roofing added protection against the elements, cover your roof with two 12-foot by 2-foot plastic roofing panels. Make sure you secure these with roofing-specific screws. Complete things with a coat of paint or a layer of sealant (I love this brand!) Wasn't it easy learning how to build a chicken coop? Now, go enjoy your eggs with a few recipes from Cut Side Down.