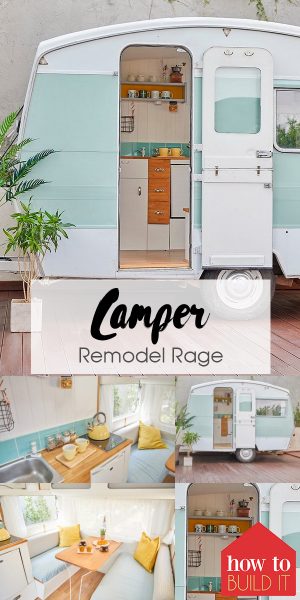 My husband and I have had a camper for years, and it's been one of those items that is completely worth the added expense. Some summers, I feel like we spend more time away in the camper than we do at home! This summer, over our Fourth of July camp out, I was hit with a HORRIBLE realization: our camper was in desperate need of a remodel! My throw pillows were looking frayed, the paint had long since started peeling, and my curtains had definitely been more vivid at some point (its funny how you never seem to notice the things like these, until you notice them!). Right then and there I made up my mind: it was time for a serious camper remodel! Take a look at a few of the projects I completed during my camper remodel rage!
Time For A Paint Job!
First thing is first! Our cute little camper DESPERATELY needed a new coat of paint! Before the camper remodel, it was navy blue with silver accents. As much as I loved that then, I thought it was time for something new so I went with a mint blue and white accents. I used several (SEVERAL) cans of spray paint and the painting process didn't take long at all! Check out my guide for spray painting for the best results! Also, I used this incredible spray painting tool that made the project SO much easier.