Are you in the market for a great piece of furniture to flip? Take a look at these guidelines before you get started!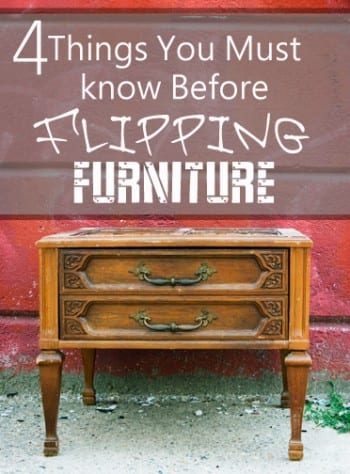 Great places to find perfect pieces for flipping include garage sales, estate sales, flea markets, and auctions. You are likely to find awesome deals, and if you're willing to put in the work to flip it, you'll end up with a great piece of furniture for very little money!
According to an article on She Knows, when you are looking for a piece of furniture to flip, it is important to ask yourself two things: (1) Is the framework of the furniture still intact? That is, does it still function? You don't want to have to rebuild the furniture (unless you are an expert woodworker, then go right ahead), you just want to redecorate it. (2) What purpose is the furniture going to serve? Are you going to use the bookshelf to hold books or display photos or hold dishes? Think outside the box and design your new piece to fit your need.
Different materials require different types of paint and even different methods of painting. This article from DIY Network is a great guide to painting on a variety of surfaces. Make sure you know what kind of material you are painting on and therefore what kind of paint you will need before you get to work!
If you want to sell the furniture after you flip it, do the cost-benefit analysis. Take into consideration the cost of supplies and be realistic about how much you think you can sell the piece for. Compare those numbers against the cost of the original piece, and decide whether or not you can make a profit.
Check out these 7 super simple, very straightforward steps from "1500 Days to Freedom" on the basics of furniture flipping. Although there are a variety of techniques you can use, this is a popular way to do it and a good way to start. These will give you a basic ideas of what supplies you will need and how much time it will take.
Best of luck on all your furniture flipping adventures!