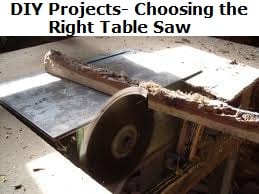 Nearly all table saws will fall into two main categories.  They will either be a  "contractor saw" or "cabinet saw."  Your budget, available space, and what type of work you plan on doing will determine what type of saw you should purchase.
A contractor saw is light and portable and is limited on how large of pieces you can cut.  This is what you will see at stores like Home Depot and Lowe's.  They are typically louder and have smaller motors.  Brand new, they can range from about $250-$600.
Contractor Saw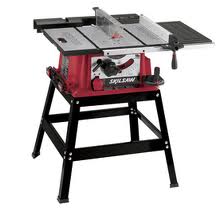 Pros:
-Small, some can even fold up for easy storage
-Light weight, they are meant to be carried to different job sites.
-Less Expensive, they are about 1/5 the cost of a typical cabinet saw.
Cons:
-Difficult to cut large sheets and larger boards with
-Can be uncomfortably loud depending on the drive method
– Motors are not strong enough to cut thick hardwood.